Contact: Paula Gieseke
Phone: 270-498-4332
National Art Honor Society

Art Club Main Page Image
The National Art Honor Society (NAHS) is designed specifically for high school students in grades 9-12. In 1978, the National Art Education Association began the National Art Honor Society program to inspire and recognize students who have shown an outstanding ability and interest in art. The NAHS strives to aid members in attaining the highest standards in art scholarship, character, and service, and to bring art education to the attention of the school and community.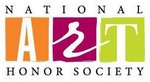 Why NAHS important?
1. Sponsors become part of the professional NAEA community and receive exclusive member benefits including: one semi-yearly and one bi-monthly publication; complete access to My NAEA online features; member privilege discounts on publications, merchandise, and the National Convention; eligibility for grants and awards; access to the Instructional Resources Gallery, and MUCH MORE!
2. Sponsors are eligible to apply for the Outstanding NAHS Sponsor Award.
3. Students become members of a distinguished group of over 46,000 art students.
4. Students gain peer recognition, leadership growth opportunities, college and career preparation, and an unmatched sense of camaraderie.
5. Students receive opportunities for publication in the NAHS News (a semi-annual, full-color digital publication), and the National Art Honor Societies Online Gallery powered by Artsonia offsite link.
6. Juniors and Seniors are eligible for the Rising Stars Secondary Recognition Program Award.
7. Seniors are eligible to apply for the Charles M. Robertson Memorial Scholarship and scholarships to Columbus College of Art and Design, Maryland Institute College of Art, and The Art Institute.
8. Impress them! Institutions of higher education view the NAHS as a mark of accomplishment.